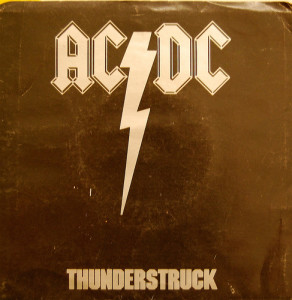 "Thunderstruck"
by Ministry, 2Cellos, Steve'n'Seagulls,  (originally by AC/DC)
from all over the goddamned place
Buy the original album on Amazon
I was thinking about picking an AC/DC tune for a #karaoketuesday post, but I'm sober enough right now to realize I could never pull off an AC/DC tune unless it was a swing number or something.  Which got me thinking about covers that are done in a different genre than the original version.  So, ladies and gentlemen, I present "Thunderstruck" as performed by three, radically different groups.  But first, let's take a listen to the original and still bad-ass AC/DC original.