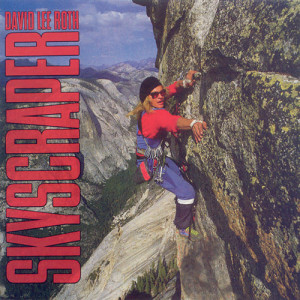 "Damn Good"
by David Lee Roth
from the album Skyscraper
1988
Buy the album on Amazon
Growing up, I was all about country and easy listening music because those were the only two radio stations I could reliably pick up with my clock radio (R.I.P. WSIX 98.6 and Easy 93).  When I heard friends talking about Huey Lewis and the News, I thought he was an anchor on channel 13.  Men At Work became "Minute Work" which I interpreted as some kind of scholastic study method (I was a weird kid).  Eventually though, we got MTV.  Although I missed out on a lot pop music as it was happening, I quickly caught up.
One of the first pop cassettes I bought for myself was David Lee Roth's Skyscraper and I'm not ashamed to say that I absolutely adore it.  I must have listened to that whole album a thousand times, although It took me a while to make the entire loop,  I'd get hooked on a song, play it through and then quickly rewind and listen again.  I became an expert in knowing just how long to keep the button down so that the track was queued perfectly.  I can feel the vibration of my Panasonic boom box (with Ambience™) rewinding right now.  "Just Like Paradise" and "Stand Up" were perfect singles.  "Hina" was just a bizarrely amazing and beautiful song (it's also a perfect night song).  But the song that encapsulates a summer song for me is "Damn Good."