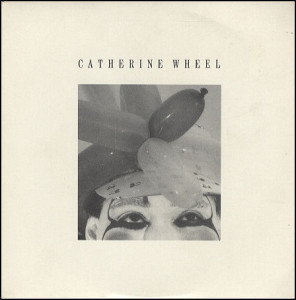 "Balloon"
by Catherine Wheel
from the album Ferment
1992 Fontana Records
Buy the single on iTunes or Amazon.
Like many of eventual favorite bands, I stumbled across Catherine Wheel pretty late in the game. The music video for "Way Down" from 1995's Happy Days was my first exposure.  It was pretty heavy compared to their earlier albums and appealed to the pseudo-metalhead in me.  Eventually, during a music drought sometime in the early aughts, I picked up their first two albums.  It was a good decision.
Their debut, Ferment is packed full of what is really a mash-up between shoegazing and straight-ahead pop songs.  The music is layered, dreamy and psychedelic but there are actual hooks and grooves.  You're not just hit with a wall of noise (which isn't necessarily bad), but end up riding the noise wave through a really well-structured song.  Check out "Black Metallic," "I Want to Touch You" and "Shallow" from the album as well.  Turn off your lights, crank the volume on WinAmp and flip on the visualizer.  It'll be a nice evening.
"Balloon" on the other hand really needs to be played outside under beautiful fall skies or flying down that one back road going a bit faster than you really should with all the windows down.  Hit the crest of that hill just right and you might catch some air…
"Balloon" was released as a single but no music video was produced. However, some amazing person grabbed some public domain footage and cut one anyway.  It's kind of perfect.