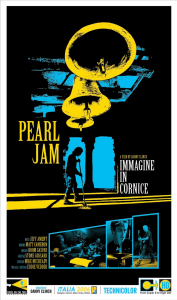 "A Quick One While He's Away"
by My Morning Jacket w/Eddie Vedder (originally by The Who)
from the film Immagine in Cornice
2006
Buy the DVD on Amazon
Even if you're not the world's biggest The Who fan (I'm not), chances are that you've heard the original version of this song during the payback scene from the film Rushmore.   The mini-opera runs about nine minutes and is kind of all over the place.  I wouldn't necessarily called it a fun-filled song (although *spoilers* there's a happy ending), but there's something about the way My Morning Jacket and Eddie Vedder bring this song to life that is just so joyful.
Continue reading Cover Friday: "A Quick One While He's Away" →