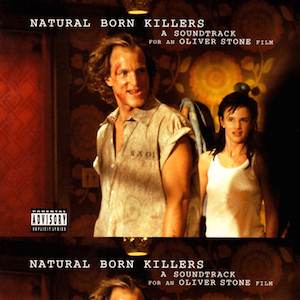 "Burn"
by Nine Inch Nails
from the album Natural Born Killers Soundtrack
1994
Buy the album on Amazon
Not necessarily what I was hoping for, but a great track nonetheless. This was originally released on the Natural Born Killers soundtrack (one of the picks I ran out of time to do for October Soundtracks), and is also on the deluxe edition of The Downward Spiral. There were bits of NIN woven throughout that soundtrack, but this was the only new NIN song, and it's fantastic. If you need a song to listen to when you're feeling pissed at the world, or even just need a workout song that will get you moving (just try not to run faster at the 2:30 mark), this is the one.
My first year of college, I blew a few hundred dollars from a student loan check on a new stereo for my dorm room, and I made sure to use the hell out of it. I used to get in trouble for playing this particular song (and others I'm sure, but this is the main one I remember). I would leave my door open and blast it, because I'm annoying and thought everyone should hear the music I thought was cool (to be fair, some people did, but they weren't exactly given the choice).
This world rejects me

This world threw me away

This world never gave me a chance

This world gonna have to pay

Well I don't believe in your institutions
I did what you wanted me to
I'm like the cancer in your system
I've got a little surprise for you

Something inside of me
Has opened up its eyes
Why did you put it there?
Did you not realize
This thing inside of me
It screams the loudest sound
Sometimes I think I could

Burn

I look down from at where you're standing
Flock of sheep out on display
With all your lies bumped up around you
I can take it all away

Something inside of me
Has opened up its eyes
Why did you put it there?
Did you not realize
Something inside of me
It screams the loudest sound
Sometimes I think I could

I'm gonna burn this whole world down

I never was a part of you

Burn

I was a soldier
I am corruption
I am the agent
Of your destruction
I am perversion
Sick with desire
I am your future
Swallowed up in fire