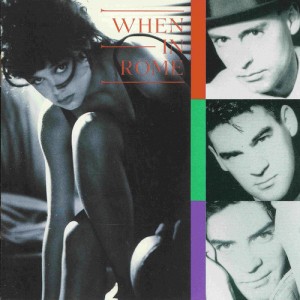 "The Promise"
by When In Rome
from the album When In Rome
1988
Buy the album on Amazon
Aaah, one of my favorite songs ever, and a must-sing entry in the Chris/Chrance karaoke playlist. This is a song I listen to when I need a pick me up, and a song I sing when I need an ego boost and want to get the crowd in a good mood. Most people don't know it by name, but as soon as that intro piano tinkle comes on, everyone of at least a certain age has their synapses fire with happy recognition.
 I don't even remember having a particular affinity for this song growing up. It's right up the alley of other 80's synth pop songs/bands I loved so this should have been there too, but I don't think I ever owned this growing up. I don't even know how it got on my radar for karaoke. I must have heard it on the radio or in a store early on in the days of karaoke, and decided I should try it. It's got just enough sincerity without going overboard and is well loved but hardly anyone ever picks it, so I rarely run the risk of someone else putting it in. It's been a staple ever since I first tried, and after a while Lance started doing back-up which made it even better. Even when he cracks me up doing an echo on some parts ("Sometimes if I shout… (shout shout shout)". This could be a proper duet and I could give up more of it, but he respects I love it too much to do so.
Excuse me while I listen to it 5 or 6 times on repeat.