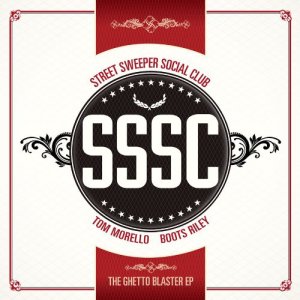 "The New Fuck You"
by Street Sweeper Social Club
from the EP Ghetto Blaster
2010
Buy the EP on Amazon
Here's a secret about blogs: you can both write posts ahead of time and have them post in the future, or you can backdate late posts to make you look like you're on top of your shit.  My intent with this post was to do the former… knock out a couple of posts in one night to hit my minimum of two a week so I could take my time on the monthly entry, but then this song came up on shuffle and Boots and Tom wouldn't let me front… so here it comes two posts back-to-back.  Oh shit… "Balloon" by Catherine Wheel just came up while I was writing this graph.  Thank god I already wrote about it, otherwise I wouldn't sleep tonight… whiskey is delicious.
Continue reading November Five-Star Shuffle: "The New Fuck You" →